St. James Child Development Center

Exceptional Child Care in Downtown Portland
---
Call

Director Patrick Earnest today for a tour.
Email: patricke @ stjamespdx.org (no spaces)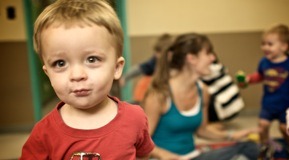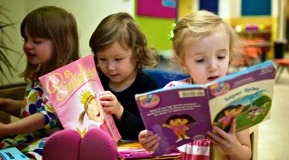 Hours: 7:15 a.m.
-

6:00 p.m.



Infants
Toddlers
Pre-School
Kindergarten
THE ST. JAMES CHILD CARE PROGRAM
The St. James Child Development Center was established in 1981 in downtown Portland. Our child care center provides a safe and secure environment for over 120 children ages six weeks through kindergarten. We are committed to providing a fun-filled, rewarding program that balances each child's intellectual, physical, social, creative and emotional needs.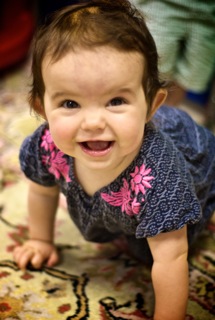 Our staff has a very low turnover rate, and many of our teachers have been with us for years and years.
Children are encouraged to be involved with the environment and learn from it. Teachers work to provide an ever changing and wide variety of activities within this setting. At each age level, themes ignite curiosity and allow children to explore their many talents. They spend their day immersed in a variety of activities that include art, music and movement, science, language, literature, and large and fine motor activities. Through all activities we seek to help the children develop self-confidence, strong academic skills and learn how to work together as a community.
We are very proud of our program and our teachers. Our goal is to provide an environment that is safe, caring, and full of the wonder of discovery!


OUR CLASSROOMS


Infants and Mobiles:
Our infants and mobiles program seeks to meet the needs of each individual child, such as diapering, feeding and sleeping. We place a strong emphasis on building a sense of security through physical and emotional experiences, such as holding securely, cuddling and giving attention while diapering, feeding, and playing. Toys are provided for both infants and mobiles to increase motor skills and mental development. Infant care may begin at age six weeks or older.


View Larger Map
See Inside: Infants and Mobiles plus our secure courtyard where toddlers, preschoolers and kindergarteners play.
Toddler Ones:
We believe toddlers learn by playing and watching their peers. This class is a transition room from mobiles into Toddler-hood! They learn how to transition from a bottle to a sippy cup and sit at a toddler size table with chairs.
Toys, books and puzzles are always within reach and are used in the development of mind. In toddler ones we begin to explore art through painting, coloring and finger painting. The toddlers love to paint and parents always enjoy the art they create!

Toddler Twos:
Toddler twos are busy busy busy! They are always on the move in toddler twos. Visiting the big room and other classrooms is just a normal part of everyday for this group. They also enjoy outside time as often as the weather permits! Language development is progressing rapidly by this age and to help stimulate that they enjoy singing songs, teacher books, puzzles, art, and sensory. Children are also learning how to master drinking from an open cup and using a spoon consistently at meal times.


View Larger Map
See inside: Our kindergarten classroom and, down the hall, toddler ones and toddler twos.
Toddler Threes:
This is a transition room from toddler twos to preschool. In this classroom, the children learn ABCs and 123s! At this age children learn how to interact with one another and acquire friendships. They love to do art, including painting, gluing and stamping. They are very mobile and enjoy lots of outside time and big room time where they can ride scooters and tricycles. They also participate in a creative movement class once a week! Toddler threes is the potty-training room. Our teachers are highly skilled at this process and love to help parents say goodbye to diapers!

Preschool:
Here at St. James we have two preschool classrooms. In these classrooms we use the Scope and Sequence curriculum in which children learn about colors, letters, math, fine and gross motor skills, language, science, life skills, music, and movement. They learn these various subjects through sensory, art, dramatic play and group time. Preschoolers enjoy outside time, visits to the library, field trips, and participate in a creative movement class once a week!
View Larger Map
See inside: Preschool, toddler threes, our kitchen, and the big room where kids take dance and play.

Kindergarten:
Our kindergarten class has so much to offer! With the class being a smaller size, the children get a lot of one on one time with the teacher. Kindergarten is taught by Ms. Noelle who has been teaching at St. James for three years. The year is broken down into themes and the class learns through reading, writing, exploring, sensory and math. The children get to go on many field trips throughout the year including the zoo, fire station and the pumpkin patch! They also take weekly trips to the farmer's market and the library.

"I believe that every child is a unique individual: therefore, I am committed to meeting the needs of each student in my class. My personal goal as a teacher is to foster a learning environment that is both challenging and creative, where students feel safe to take risks and express themselves." -Ms. Noelle

FOOD AND COOKING


We believe in feeding our children healthy and well-balanced meals! Our cook has been here for over 20 years and she knows what the kids like! We offer various organic options with meals and all hot meals are made from scratch! Yum!


TESTIMONIALS




"St. James is like a second home to our family. The teachers are so dedicated, most having worked here for years, so you'll always see a familiar face. And no matter what classroom you're in- from infant to kindergarten-the atmosphere is warm and fun and busy with activity from arts and dance to outside walks and field trips. We really depend on the safe, consistent setting here, and feel lucky that both our children spent their early learning years in such a close-knit environment. Plus, our kids are always excited to go to school- that says it all!"


-

Mark & Brooke Jockin


(currently have two children enrolled at St. James)

"The teachers at St. James are truly an extension of our family. They provide our daughter with so much love and comfort, while also providing a fun, safe learning environment."
-Jennifer Roark
(Currently has one child enrolled at St. James and one on the way!)


---
TUITION

(effective January 1, 2020)
Infants, Mobiles, and Toddlers
Full Time Monthly Cost / Part Time Monthly Cost


| | |
| --- | --- |
| Full Time | Half Time |
| 5 days: $1600 | 5 days: $1365 |
| 4 days: $1515 | 4 days: $1365 |
| 3 days: $1430 | 3 days: $1275 |


Preschool & Kindergarten
Full Time Monthly Cost / Part Time Monthly Cost


Full Time
7:15 a.m. to 6:00 p.m.
Half Time
7:15 a.m. to 12:30 p.m.
5 days: $1350
5 days: $1190
4 days: $1290
4 days: $1190
3 days: $1240
3 days: $1125
Daily Rate
(the charge for adding an extra day to your usual schedule)

Full Day $100
Half Day $50

Late Pickup Fee
After 6:00 p.m., there is a $2.00 per minute per child fee.
This fee is due to your child's teacher immediately upon pickup.

There is no reduction in fees for absence or weather related closures. For periods of extended absence (more than one month), you may retain your place in the program by paying half of the full time rate for your child's age group. Families must give 30 days notice of this change.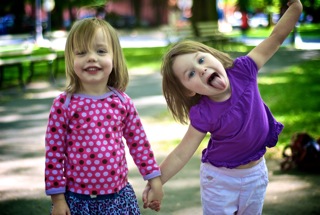 St. James Child Development Center
1315 SW Park Avenue
Portland
,
Oregon
97201
503.227.2439
View Larger Map
PHOTOS

Email: patricke @ stjamespdx.org (no spaces)
Director: Patrick Earnest
Assistant Director: Rachel Harrison


St James Facebook | Kindergarten Blog
St James Child Development Center is closed on the following days during 2020
| | |
| --- | --- |
| New Years Day | January 1 |

For snow days, if Portland Public Schools are closed, St James is closed.
If PPS have late start, St James starts late too (at 9:15 a.m).